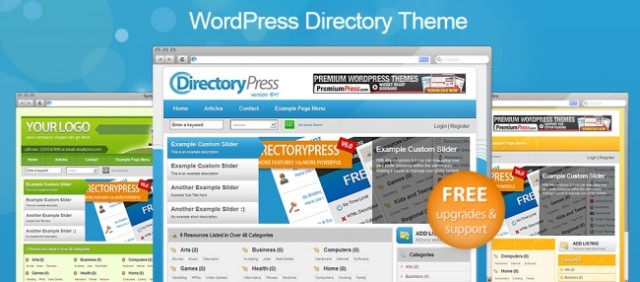 DirectoryPress turns your WordPress blog into a powerful online directory website with lots of features, import tools and built in payment gateways. It includes 20+ directory themes, unlimited installations, lifetime free support and upgrades!
You  simply upload DirectoryPress to your themes folder, activate it, and you're ready-to-go. It comes with 20+ templates, in a wide-range of color schemes. New templates are added each month, and you get them as they are added – for free. You also get the PSD files, in case you want to edit them yourself.
Support for this product is fantastic. I have emailed Mark Fail (the creator) with questions about his themes several times, and I always get a prompt and thorough response. Plus, there is an online manual, training videos, phone numbers, you can connect with Mark via Skype, pre-sales FAQs, and a support forum.
Also, Mark is constantly making improvements to DirectoryPress (and his other Premium Press apps) and adding new themes.
The only con I can find is this. You can't add regular blog posts. I have been looking for a directory theme or plugin myself, but the directory I want to set up is in a pretty narrow niche, and I would like to be able to add some articles. Although I'd bet that with some tinkering, it could be done with DirectoryPress.
This theme puts my mind into overdrive, thinking of all the different kinds of directories that I could set up!
DirectoryPress is loaded with features. Here are a few:
Open source – edit or customize all you want
Unlimited categories and listings
Free and paid submissions, with 20 payment processors
An automatically generated, nice-looking sign up page
Users can submit their own listings
Google Maps, Analytics, and Tracking
Use your own images or use their website thumbnail API for free
Several import tools
Star rating system
Supports widgets and plugins, just like a regular WP blog
Ad slots, and category-based ad slots
Image cropping
Compatible with WordPress 3.0
There's more, these are just some of the features. Click the link and go check it out DirectoryPress for yourself!
Info
Price
 $79
License
 Unlimited Sites
Refund
 No Refunds
Category: Directory Themes