If there is one thing every marketer knows, there is one particular word in any language that can bring in the business – Free.  People will do nearly anything to win a free item in a contest, whether it's free gas, free movie tickets, or a free laptop computer.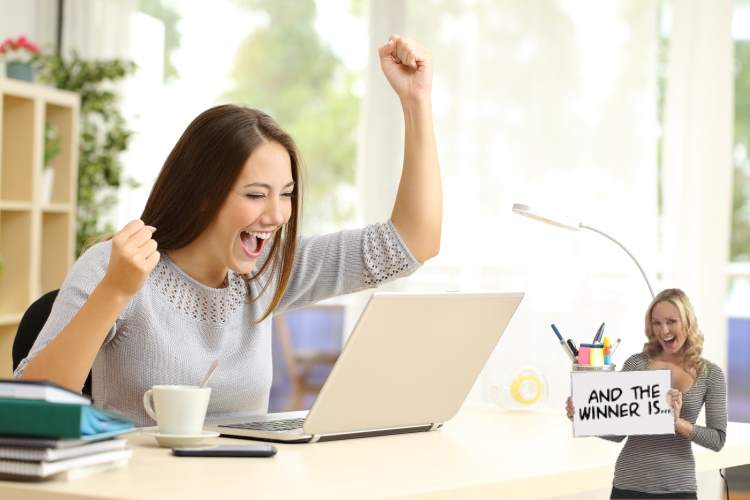 In the online world, this same theory holds true, allowing you to bring new traffic to your site and reward your loyal readers just by holding contests on your blog or website.
So, our first method of generating traffic to your blog is by hosting a contest.
There are four main steps to running a contest:
Deciding on an appropriate prize
Planning the format
Announcing the contest
Promoting the contest
That's it. Of course, there's a bit more to it than that, so let's go into those four steps in some detail:
 1. Choosing a prize
There are two schools of thought on prize selection: You can pick something that's universally attractive, or you can choose something that's complementary for your market. Which you select depends on your goals.
A universally appealing prize is something that virtually anyone would be interested in, like a gift card to Amazon, a piece of electronics equipment, or cold, hard cash. The advantage of a universally appealing prize is that you will draw tons of eyeballs, and that can bump your traffic stats. The drawback is that many of those visitors may not be interested in your site beyond the ability to win free cash or a free iPad and will disappear as soon as the contest is over.
A prize that's applicable to your market is more preferable, if you want to generate TARGETED traffic that's pre-qualified. For instance, if you run a diaper delivery service, you might offer a prize of a free month's service, a baby sling, a gift certificate to Babies 'R' Us… things new parents would find appealing. Obviously this will draw more valuable visitors to your blog, although they won't be in such large numbers.
2. Planning the Format
How, what, when and where? Now that you have the prize chosen, what will your visitors have to do in order to win it? Obviously an important element of planning your contest is creating a way to capture the traffic that visits your site. The most common way to do so is to ask people to join your email list to be entered to win. Another option is to ask people to leave their email address, with the knowledge that they may receive future communications from you.
3. Announcing the contest details on your own blog
When you announce your contest, make sure to include all the details, such as how people will enter, when the contest closes, and how the winner will be chosen and notified (Tip: If you have people visit the site to see if they've won, you'll make sure they visit at least one more time!). If you received the prize as a donation from a sponsor, you may need to disclose that fact in the fine print on your site.
4. Promoting the contest
If a person gives away an iPad on the web and no one enters, does it make any noise? No. To get attention, to get traffic, to get customers, you have to make some noise. This means talking up your contest and encouraging others to do the same.
At the bare minimum…
As mentioned above, post about the contest, but don't do it just once – write at least a few blog posts about the contest.

Tweet about it several times.
Add it to your Facebook page.
Make an infographic about it and post it to Pinterest.
Use any other of your social media tools to get the word out.
Mention the contest on any forums or message boards that you participate in.
Ask friends in your industry to include a note about the contest in their ezines.
Other ideas…
You can also give extra entries to entrants who also Tweet and/or post about the contest on their blogs.

Think about creating a small blog button for people to add to their sites (make sure it's clickable and hot-linked back to your site).
If you're giving away something huge, write up a press release and submit it to appropriate media, online and off.
There are also industry-specific sites that list contests of interest to that niche, so submit your contest for added bang.
 One caveat: The bigger the prize, the bigger the promotion. You may burn people out or disappoint them if you make a big deal about a contest to win a new toothbrush!
Contests don't have to be complicated. A prize, a set of instructions, a little buzz, and you'll be raking in the rewards in the form of higher traffic in a matter of days. Good luck!